Beginner's Level Non Certification

PADI Certification Level

PADI Specialty Courses

Advanced Open Water Dive Course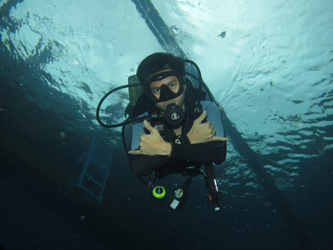 What is PADI Advanced Open Water?
After your PADI Open Water Diver certification you can take the next step by completing 2 core dives and 3 adventure dives. If you've completed five total dives that include deep and navigation, you're an PADI Advanced Open Water Diver.
Prerequisite?
Must be certified as PADI Open Water Diver or PADI Junior Open Water Diver or equivalent.
How long does it take?
2 days. Maximum Open Water Training: three dives over one day 2 days total


Where can I go from here?
PADI Adventure Dives can also count towards PADI Specialty Diver certifications. If you liked your Night Adventure Dive so much that you wanted to take a complete PADI Night Diver Specialty course, your Night Adventure Dive can count as the first dive of that specialty. Another step is taking Emergency First Response and become a responder then continue your education and become a Rescue Diver.



Advanced Open Water Diver Course in a nutshell:
Complete the five Knowledge Reviews for the completed Adventure Dives, watch video if available, total time 2 hours


2 core dives which is underwater navigation and deep dive

3 adventure dives, best option in Anilao is Peak Performance Buoyancy, Wreck dive and Night dive or other available adventure dives are Search and Recovery dive, Drift dive or Photography dive.
Cost : Php 17,500 1 person
2 or more Php 15,500 per person

Additional Item:
Boat rental for 2 dives is Php 3,500 can be shared


Dive pass required for boat dive at Php 200 per person per day

Accommodation and Meals
Optional Item at additional cost:

Elearning or (Online theory part of the course) Please click the link below:

Itinerary:

1. First Day
2. Second Day

Next Schedule of Advanced Open Water Diver Course: