Discover Scuba Diving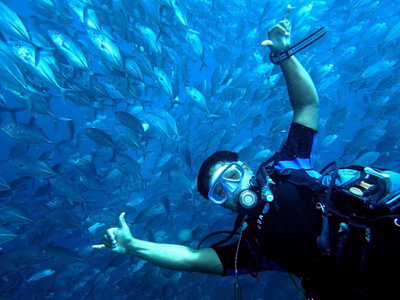 Discover Scuba Diving (For beginners who want to try first time diving)
Php 4,000 per person including gear, 2 to 3 hours, one on one with our dive pro, one dive on the open water.
What is Discover Scuba Diving?
The Discover Scuba Diving program is not a course it is an entry level program that let you experience the thrill of diving under the supervision of a Dive Professional in pool or pool-like conditions. During your adventure, you'll master some basic concepts and scuba skills and might even head off to experience an open water adventure.
Prerequisite?
Minimum age: 10
What can I do?
Discover excitement and explore the adventure - freedom and serenity. Nothing compares to the "weightless" exhilaration of breathing underwater. Only a diver knows the feeling!
How long does it take?
2 to 3 hours. Get ready to dive today. Instructor briefing with the Discover Scuba Diving Flip Chart, you'll enter the water quickly for short practice and ready for your scuba adventure.
Where can I go from here?
You're on your way to get an open water diver certification.
---