Beginner's Level Non Certification

PADI Certification Level

PADI Specialty Courses

Master Scuba Diver course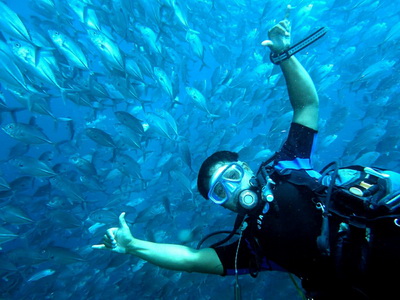 What is PADI Master Scuba Diver?
The PADI Master Scuba Diver rating is the highest recreational diver rating in the PADI System, and denotes a diver with superior experience and achievement.
Prerequisite?
Note: 12-14 year old divers may earn Junior Master Scuba Diver certifications.
Certified as a PADI (Junior) Advanced Open Water Diver, a PADI (Junior) Rescue Diver, and certification in five PADI Specialty or TecRec courses.
Note: Specialty diver or TecRec certifications must be PADI – no other certifications qualify. One PADI Freediver (not Basic) certification may credit.
What can I do?
Want it. Live it. Dive it. Master Scuba Diver. This rating puts you in a class of distinction. You earn it by diving it, writing your ticket to endless adventure through the experience and training that set you apart as a PADI Master Scuba Diver.
How long does it take?
5 days atleast. or can be done on week end basis.
What will I need?
The following materials are required unless they are unavailable in a language understood by the student diver.
Where can I go from here?
Continue to Padi Divemaster course and become one of the Padi Professional.

Master Scuba Diver Course in a nutshell:
Divers qualify for the Master Scuba Diver certifications by:
Meeting the Master Scuba Diver age, PADI Advanced Open Water Diver and Rescue Diver prerequisite, and 50 logged dive requirement.


Earning five PADI specialty certifications as part of a Master Scuba Diver program.

With their instructor, submitting a PADI Master Scuba Diver application to their PADI Regional Headquarters.
Cost : Depends on the Specialty Courses Below

Suggested Specialty Courses in Anilao for Master Scuba Diver rating:
PPB - Peak Performance Buoyancy - Php 9,000 - 2 Dives


Underwater Navigator - Php 10,500 - 3 Dives

Enriched Air (Nitrox) - Php 12,000 - 2 Dives

Deep Diver - Php 12,000 - 4 Dives

Night Diver - 12,500 - 3 Dives
Other Specialty Options available:
Additional Item:
Master Scuba Diver Processing fee Php 5,000


Master Scuba Diver Application Fee to PADI using your credit card

Fun dive on free time

Boat rental or shared boat rental fee during the course if necessary to go by boat.

Dive pass required for boat dive at Php 200 per person per day

Accommodation and Meals
Optional Item at additional cost:

PADI Specialty Elearning available or (Online theory part of the course)
Itinerary with 5 PADI Specialty pre-selected above :

1. First Day
Preparation: Registration and Orientation
Classroom: Video and answering Knowledge Reviews

Open Water:
PPB Dive 1


PPB Dive 2

Night Dive 1 - Log the dives
2. Second Day
Classroom: Video and answering Knowledge Reviews

Open Water:
3. Third Day
Classroom: Video and answering Knowledge Reviews
Open Water:
Deep Dive 1


Underwater Navigation Dive 3

Night Dive 3 - Log the dives
4. Fourth Day
Classroom: Video and answering Knowledge Reviews
Open Water:
Deep Dive 2


Enriched Air (Nitrox) Dive 1

Enriched Air (Nitrox) Dive 2 - Log the dives
5. Fifth Day
Classroom: Video and answering Knowledge Reviews
Open Water:
Deep Dive 3


Deep Dive 4 - Log the dives

Specialty Certifications Processing

Master Scuba Diver Application Processing

Next Schedule of Master Scuba DiverCourse: