Beginner's Level Non Certification

PADI Certification Level

PADI Specialty Courses

Rescue course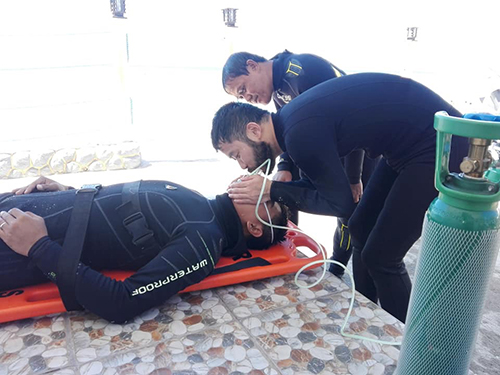 What is PADI Rescue Diver course?
Rewarding and fun – that best describes the PADI Rescue Diver course. This course will expand your knowledge and experience level: Rescue Divers learn to look beyond themselves and consider the safety and well being of other divers. Although this course is serious, it is an enjoyable way to build your confidence.
Prerequisite?
Note: 12-14 year old divers may earn Junior Rescue Diver certifications
What can I do?
Course Description: Serious Fun! Learn to look after yourself and others! PADI'S Rescue Diver program will build your confidence as a diver, give you valuable experience in emergency management and prevention and heighten your awareness of the surrounding environment. Sections on self-rescue, diver stress, diving first aid, emergency management, equipment problems will prepare you to handle almost any emergency whether on the shoreline or in the water. The PADI Rescue Diver Course is widely accepted as one of the most challenging, rewarding and fun dive courses available!
The course is divided into three parts:
Knowledge Development: Five presentations

Rescue Training Exercise Sessions:

Self Rescue review
Exercise 1 – Tired Diver
Exercise 2 - Panicked Diver
Exercise 3 - Response from Shore, Boat
Exercise 4 - Distressed Diver Underwater
Exercise 5 – Missing Diver
Exercise 6 – Surfacing the unresponsive diver
Exercise 7 – Unconscious Diver at the surface
Exercise 8 – Exiting the unresponsive diver
Exercise 9 – First Aid for Pressure-related injuries and Oxygen Administration
Exercise 10 – Response from Shore/Boat Unresponsive Diver

Open Water Rescue Scenarios:

You will have the opportunity to put everything you have learned into practice, handling diving incidents as part of a team.
How long does it take?
Minimum Open Water Training: five sessions 3 days with EFR 4 days,
Where can I go from here?
Continue to PADI Master Scuba Diver course or Divemaster course.




Rescue Course in a nutshell:
Complete five knowledge development segments, watch video if available and exam, approximately 6 to 8 hours.


Demonstrate skills from the Self-Rescue Review either in confined or open water.

Demonstrate skills from Rescue Exercises 1-10 in open water.

Participate in Rescue Scenarios 1 and 2 in open water.

Prepare an emergency assistance plan for a dive site.
Cost : Php 22,000 1 person
2 or more Php 19,000 per person

Additional Item:
Additional fun dive during free time


Dive pass required for boat dive at Php 200 per person per day

Accommodation and Meals
Optional Item at additional cost:

Elearning or (Online theory part of the course) Please click the link below:

Itinerary:

1. First Day
2. Second Day
3. Third Day
Next Schedule of Rescue Diver Course: